DE GILLETT COX on the CRYPTOCURRENCY ECONOMY
De's very first NFT is now available on Mintable!
Part of her "Nudes in Motion" Collection, "Sans tutu" is an homage to dancing like no-one is watching. Portraying passionate movement in a static medium such as paint is difficult, but doable. Skillfully add the animation to be had with GIFs, and suddenly the still becomes flowing, and the silent starts to sing. Australian artist De Gillett Cox brings decades of painterly experience to this new artform, and adds redeemable archival giclee prints for your walls to each NFT, as well as ultra hi-res files so that the buyer can add the image to their wall, as well as their crypto investment portfolio. Represented in prestigious bricks and mortar galleries throughout Australia, De offers as NFTs her figurative works, based on traditional life drawing techniques and years of drawing experience.
The buyer of this unique work recieves not only the NFT featuring De's original drawing, but will also be mailed 2 x archival cotton rag prints 20″ x 24″ (51 x 61 cm).  Firstly, of the original hand drawn image by De Gillett Cox, and also a composite image of 6 digital variations used in the creation of the GIF. You will also be emailed a high resolution file of the original which may be used to print a large, frameable reproduction on canvas or paper up to  40′ x 48″ (100 x 120 cm).
DE GILLETT COX at MONTVILLE ART GALLERY
Montville Art Gallery  selected De in 2019 from over 400 artists each year approaching them for representation. Her work for Montville is inspired by  Australian birdlife and the locale-  hauntingly beautiful abstracted landscapes and tree studies utilising De's habitual symphonies of colour, line and texture. and huge graphic interpretations of Australia's native birds. Working on canvas in both large and tiny formats, De's original paintings bring a rainforest sensibility to your walls.
DE GILLETT COX at MANLY HARBOUR GALLERY
A beautiful gallery on Brisbane's bayside, Manly Harbour Gallery boasts an extensive collection of original works designed to complement current directions in home decor. Big, bold and confident, the selections made by artists and owners Jenny and Jess bring together a stunning, ever engaging palette of bayside colours and themes in paintings, sculptures and artisanal offerings.
DE GILLETT COX GICLEE REPRODUCTIONS
Need a different size? A more affordable price? How about custom framing, glossy acrylic or traditional, matted paper under glass? 
Buy Art Now has you covered. Click through to see all the options for top-quality giclee reproductions, including a real-time app to allow you to see how your choices will look on your own wall!
DE GILLETT COX ART AT BLUETHUMB
Buy originals direct from De's studio through her self managed page at Bluethumb. These works are typically not available through her bricks and mortar galleries.
DE'S ART ON EVERYDAY PRODUCTS
DE GILLETT ART on EVERYTHING!
Red Bubble is the opportunity for you to buy De's art on more than just a canvas. Want a creative idea for a present that you can say is custom, choose from Pillow Cases, phone covers, prints, Tee Shirts or bags that have some of my most popular and favourite art pieces on there.
$15 – $120
DE'S ART ON PAPER, CANVAS & MORE!
DE'S ART ON FABRICS BY THE METRE!
DE GILLETT COX ART on FABRICS!
De's latest venture outside of the fine arts is a collaborative venture with Kennard and Kennard, an Australian manufacturer of designer fabrics. De has drawn on more than 10 years of her paintings, working digitally to create panels, repeat patterns and more. These exciting new fabrics will be available early 2021.
De's collections with Kennard and Kennard can be seen here-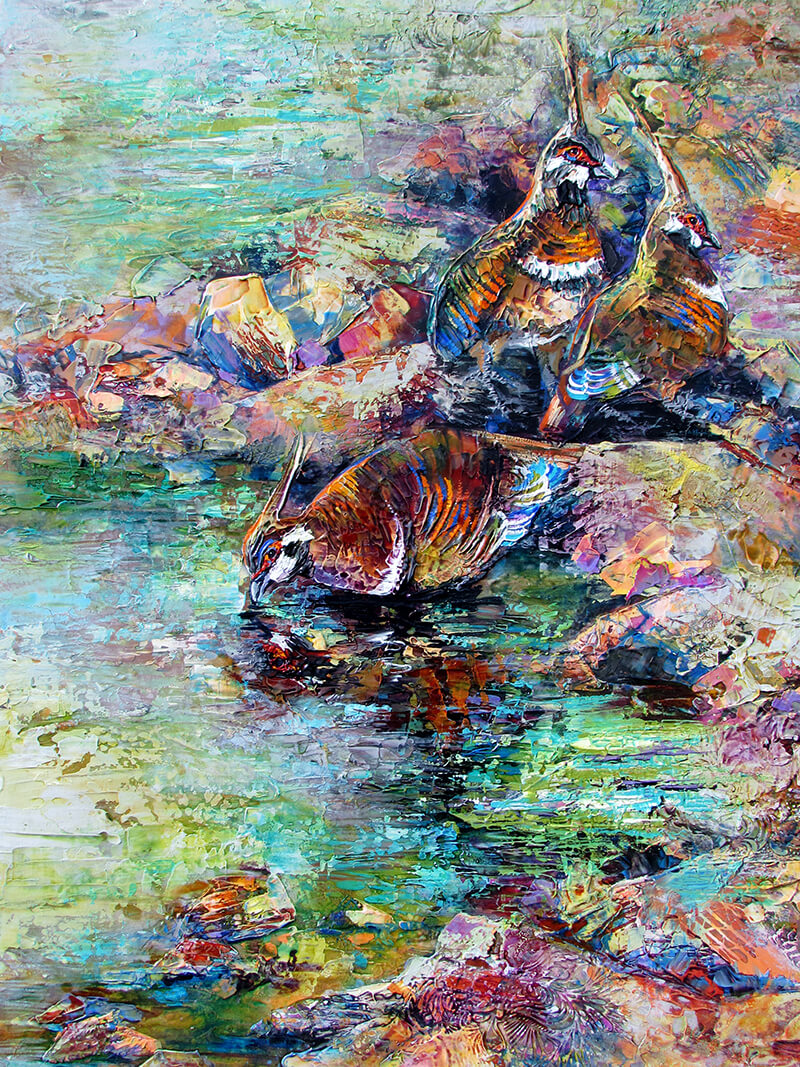 Cryptic, camouflaged feathers against the shallow depth of an outback Australian waterhole. The searing light of a Queensland desert scintillates among rock pigeons, well camouflaged against their habitat. The patterns and colours found on their iridescent wings are also found in the rocky pools, and across the boulders defining them. A top layer of transparent, coloured inks portrays the transience of rain-filled rockpools, and the ephemeral nature of desert life. This original work was consumed by the fire in 2015 at the Longreach Hall of Fame during the art competition where it was awarded second prize. To buy a print of this canvas please click the button below.
A scene from the head of the Condamine River. I am a great fan of Australian Impressionist Arthur Streeton, and for this painting I appropriated his incredible purple sky and paired it with a scene from the head of the Condamine River, wihich eventually flows into the Murray Darlling system. Australian colours are so different from the rest of the world, and I believe both Arther and I got it right. I have developed a whole new way of layering paint to work with our landscape, and it is very, very exciting. To buy a print of this canvas please click the button below.
Peaceful image of the Australian Pelican. Many layers of transparent colours in inks and acrylics form this peaceful image of the Australian Pelican, drifting in the azure ocean. Just like the bird itself, all quiet on the surface and paddling like crazy underneath, so is the sea; teeming with life and rich with colour and movement. To buy a print of this canvas please click the button below.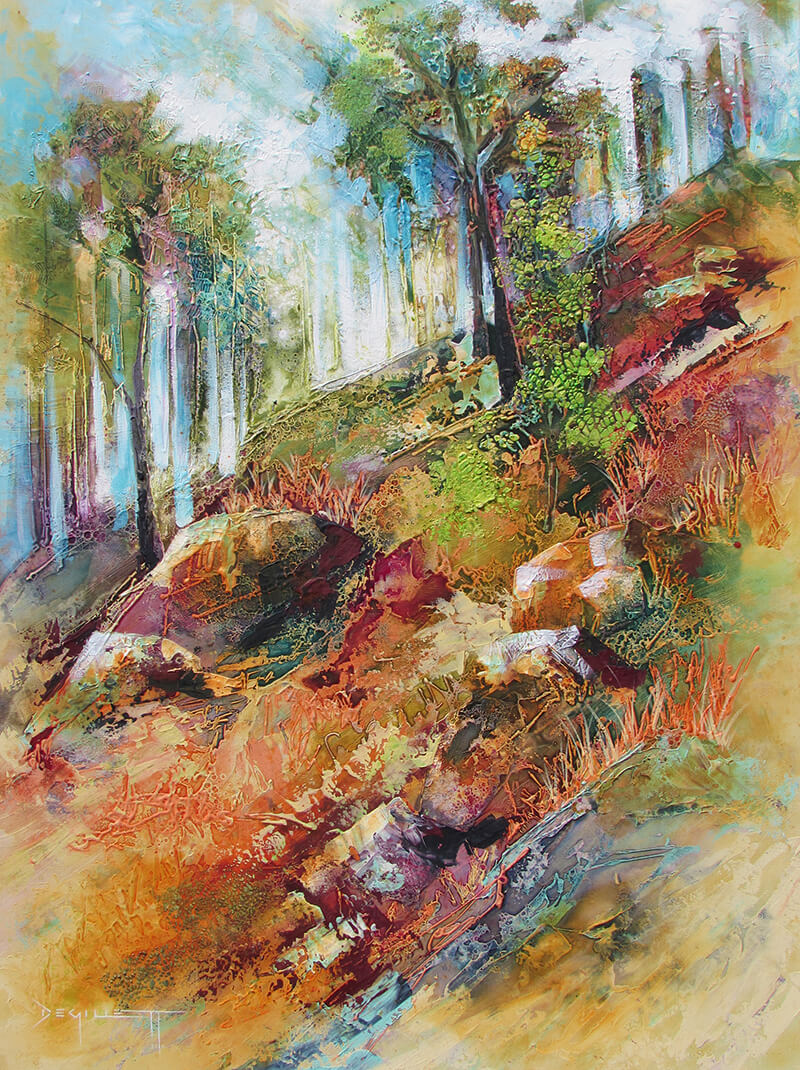 The rock-strewn hillsides of south-east Queensland captivate me. Whilst there, I am often overwhelmed by the colours and the intensity of the light. Australia can hide its share of dangers, and I like to think that in "Monsildale Hillside" there is an element of that danger- a boulder to trip you up, and just maybe, a snake under that rock… This highly textured work is an exaggeration of what is there, filtered through my great appreciation of its beauty. To buy a print of this canvas please click the button below.
The biological richness of freshwater ponds always captivates me. This painting is my interpretation of that richness, using broad sweeps of palette knife textures and colour, overlaid with transparent inks and glazes. I wanted to capture a little of the magic of Impressionism in painting such a treasured subject, and make not one mark too many. Are there dragonflies, hovering? You decide. To buy a print of this canvas please click the button below.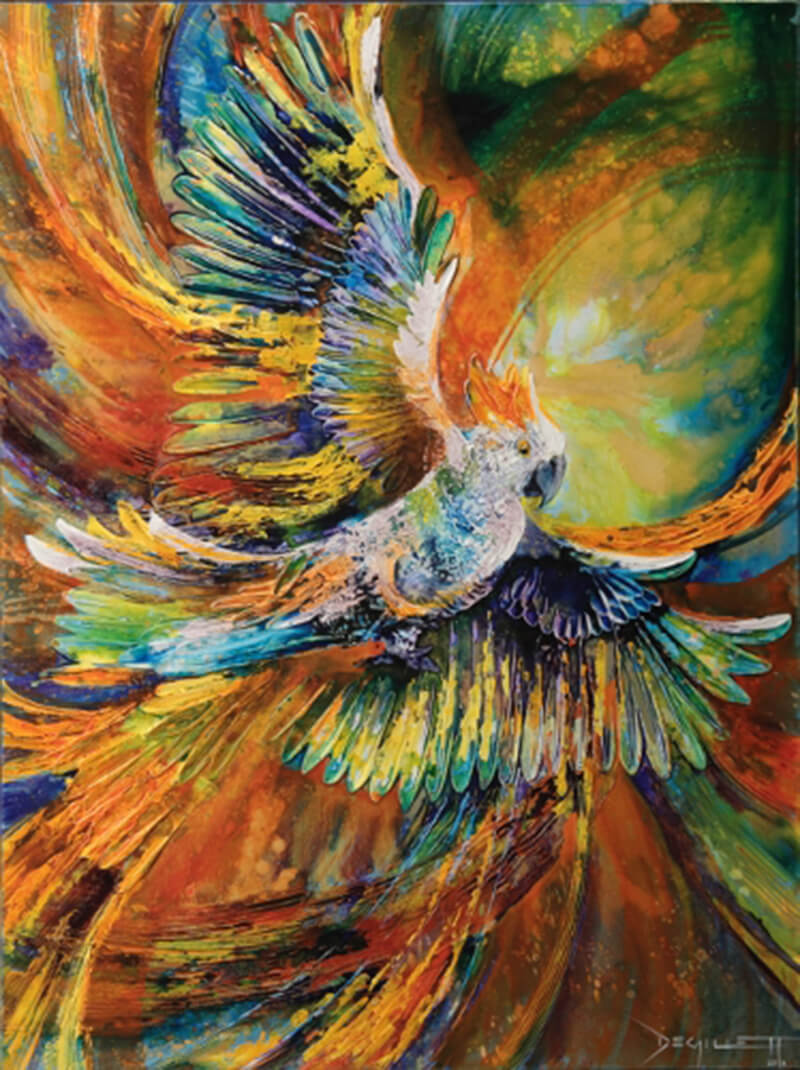 Tropical air is rhythmically displaced by the vigorous wingbeats of Australia's native Sulphur Crested Cockatoo, noisily travelling Queensland skies. These raucous birds live in large colonies throughout Queensland, Australia. They can be a destructive menace to humans, with a habit of chewing away at fence railings and plants, but in their natural habitat they are magnificent, and a law unto themselves. To buy a print of this canvas please click the button below.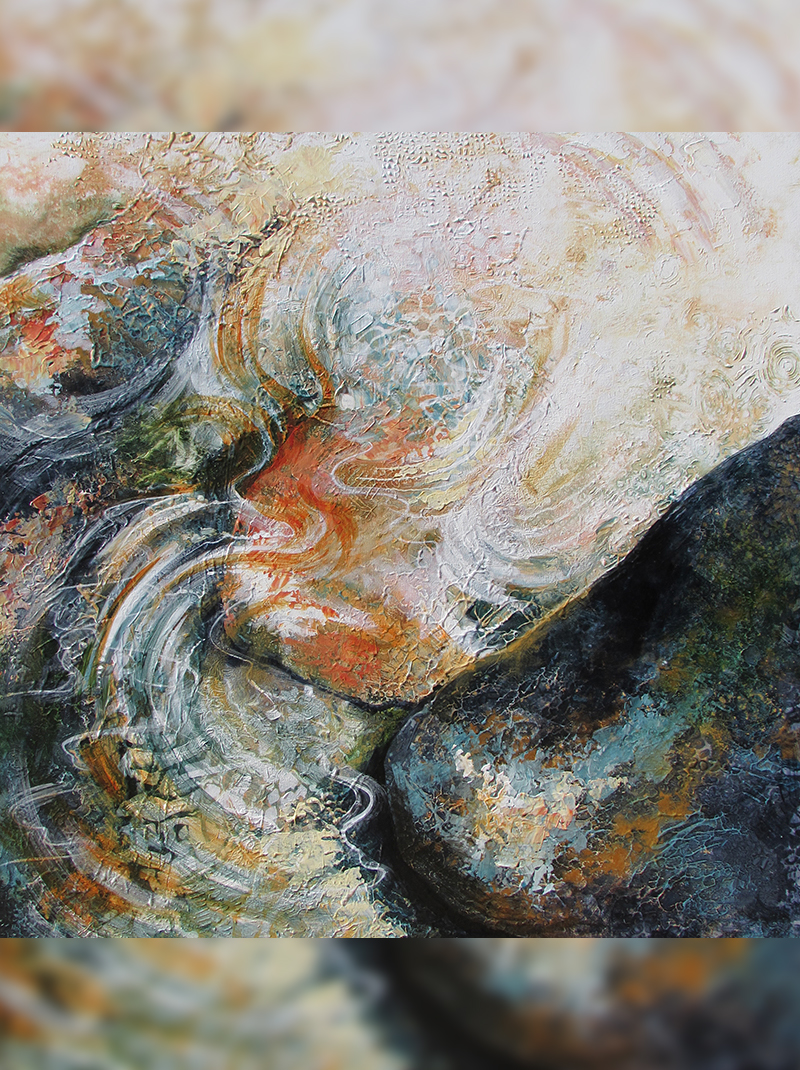 Reflection and refraction abstracted in the shallow, clear waters of Mission Beach, Australia. I've had a few goes at capturing the ephemeral beauty of moving water, and it's taken several years for my painting ability to catch up with my grandiose visions. Layer upon layer of translucent washes and glazes have combined to build depth in the sparkling shallows, set against the strength of stones and shadows. To buy a print of this canvas please click the button below.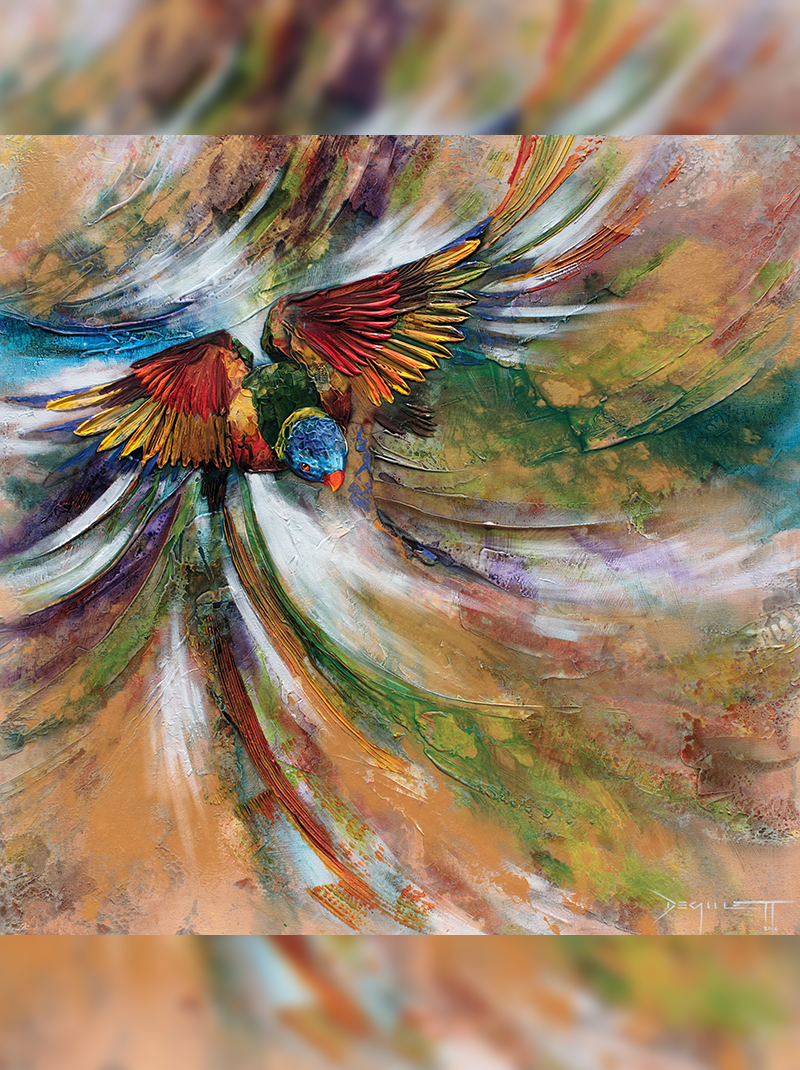 HEAD FIRST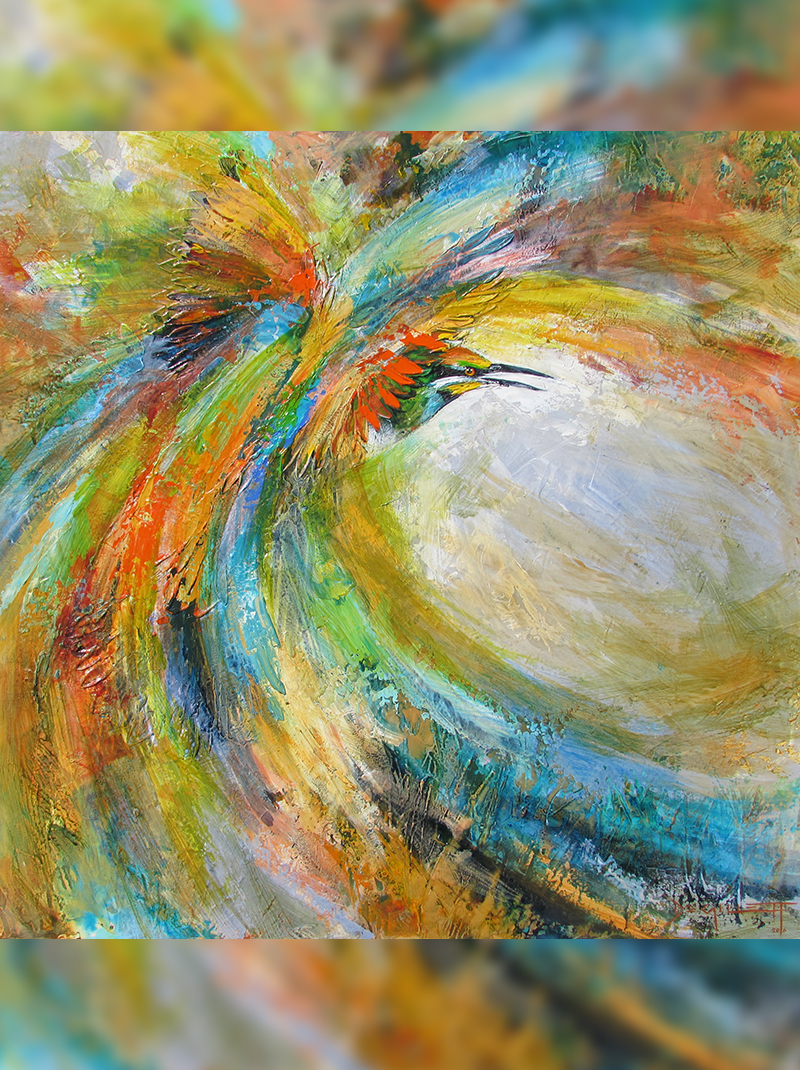 Combining clear and bright colours with the ochres and earths of Australian soils The notion of simultaneity is something I have been working with for many years now- where it is, where it was, where it will be. I am in thrall to the Cubists and the Futurists, who first stated working with ways to show temporal progression, and it's actually my main subject whenever I paint birds. Combining clear and bright colours with the ochres and earths of Australian soils is one of my favourite things to do, and the Rainbow bee-eater with its underground burrow for nesting is a much loved subject of mine. To buy a print of this canvas please click the button below.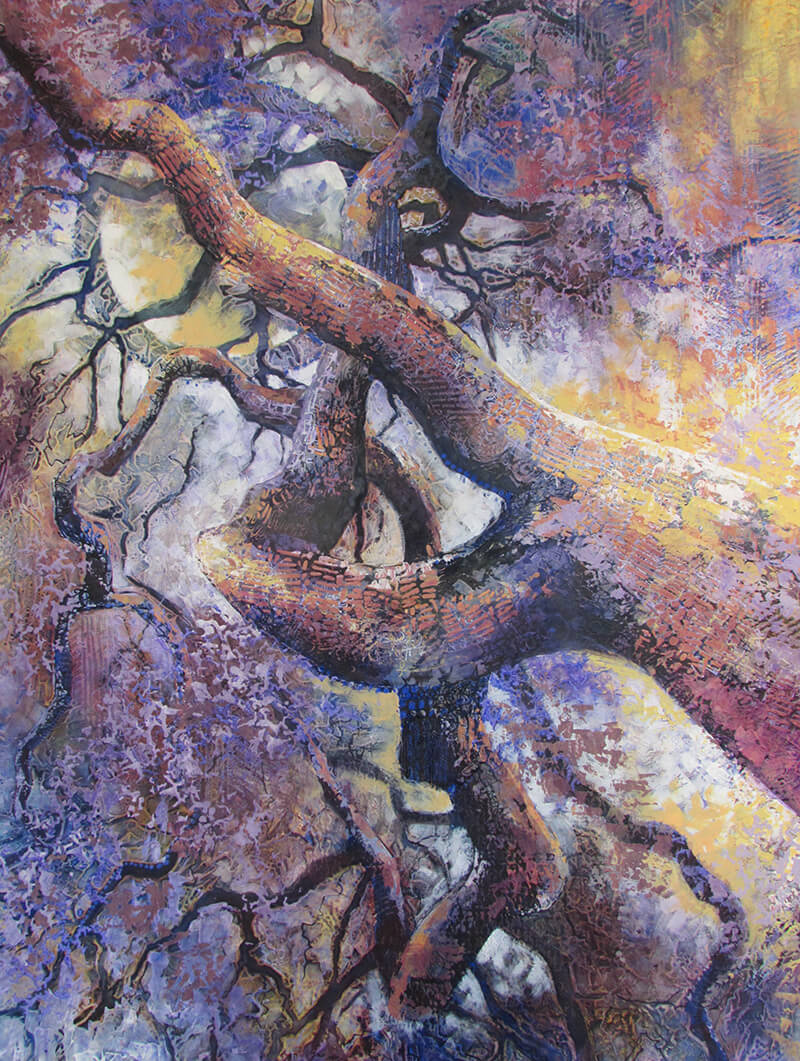 SISTA MOON BROTHA SKY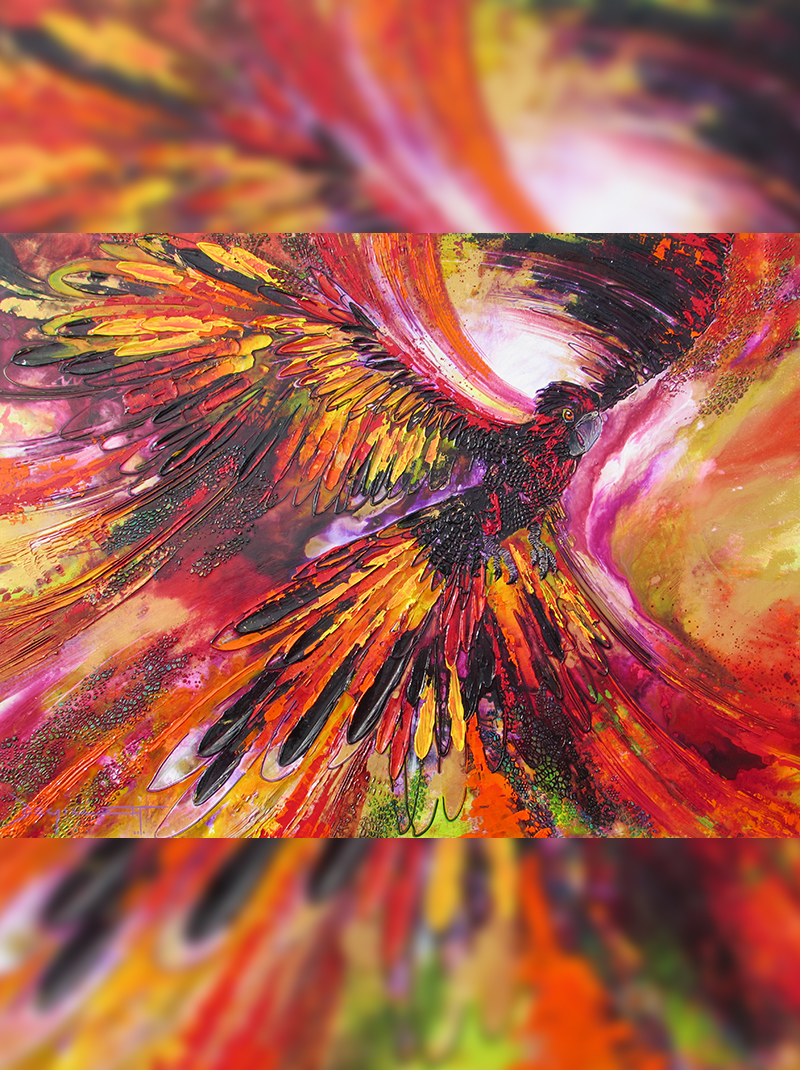 Australia's native red-tailed Black Cockatoo, resplendent in a sky of sunset hue. Almost camouflaged against a sunset sky, this cheeky bird is large, loud, and rowdy. With glossy black plumage and great tolerance for human presence, these beautiful birds are often seen in parks and backyards, stripping she-oaks and beach almonds for their seeds. To buy a print of this canvas please click the button below.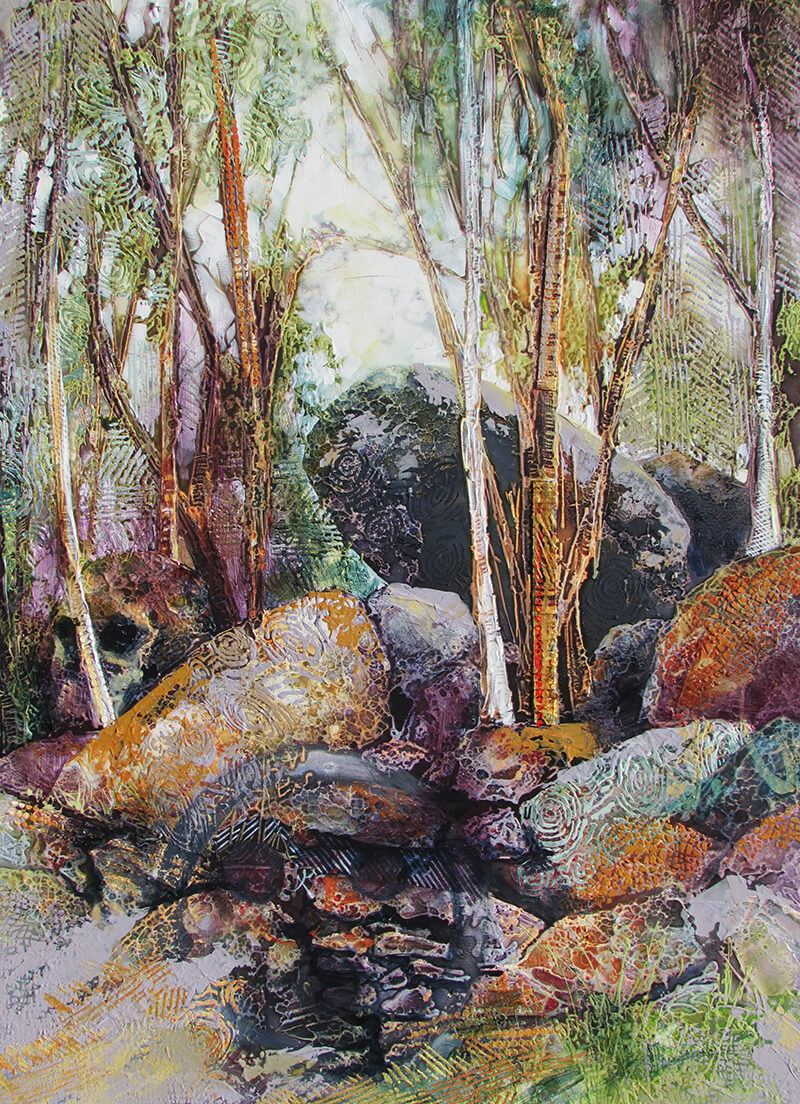 Spirit Mortuum is an homage to Auntie Edgar. Spirit Mortuum is an homage to Auntie Edgar, whose remains lie buried in this place at Stanthorpe, Queensland. An Aboriginal woman of the stolen generation, she lies in a landscape drenched with symbols of her country and her life. Tree trunks transform into hollow log coffins, rocks vibrate with symbols of consequence and waterholes, and residing over all, the circular form of "caput mortuum", designator of remains. To buy a print of this canvas please click the button below.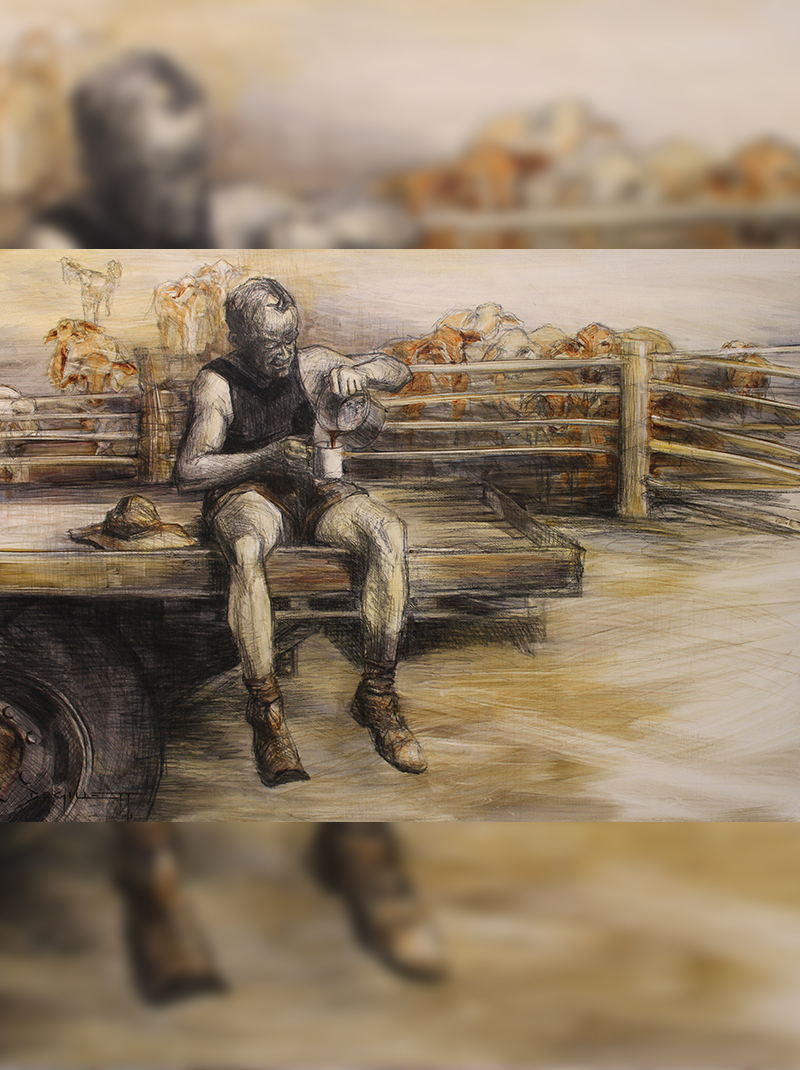 Outback dust and searing heat…this is my granddad, Kemp, pictured on a smoko break during his time as an Outback veterinarian. The atmosphere of old sepia toned photographs has always entranced me. It seems to speak so loudly of the hardship of those times. When this photograph was taken, Kemp had 6 children at home in Brisbane to support, and he did that by speying cattle (an operation rendering them infertile) on outback Queensland cattle properties, with his dad, Professor Bates. To buy a print of this canvas please click the button below.
#brisbaneartist #degillett