ONLINE ART CLASSES WITH DE GILLETT
De Gillett is best known for her self-developed ways of working with acrylic paints. Having learned to paint in isolation, she uses techniques all her own invention, and keeps no secrets when she shows you exactly how to get started, and then how to troubleshoot and fix all the issues that may arise during these brave, intuitive processes.
At our Preston Road, Wynnum, Studio/Classroom, we offer workshops in all of De's techniques. From Gesso Soup to Inking, Mixed media to Portraiture, we have many, many ways of helping you gain the knowledge you need to find and express your own artistic voice. These techniques, honed by years of face-to-face teaching are precisely what is on offer in our online art classes. Each workshop offers you over 2 hours of step-by-step demonstration and explanation from De, captured on film by Graham. In the editing suite, Graham then refines and perfects the footage, until we end up with a chapterised workshop that will show you technique after technique, step-by-step, which you can watch time after time until it is all internalised. Your subscription to each workshop comes with immediate and lifetime access, so let's get painting!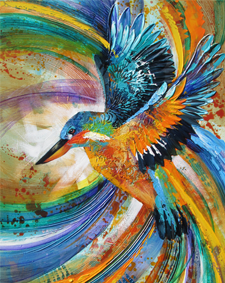 ACRYLICS – TEXTURE, SPATTER & GLAZING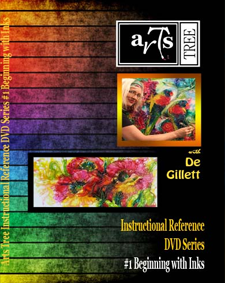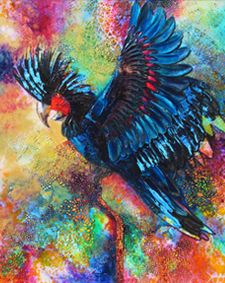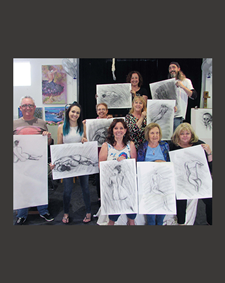 I love to teach the practical aspects of making bold, painterly, beautiful, lyrical and meaningful art. Art has opened so many doors for me in my life, and if I can nudge those doors open for others, (and by others, I mean YOU!) then that feels like a life well-lived!
This is a great option if you are already a practiced artist and would like some top level art tips to help you with an art piece that just doesn't have that missing piece yet.
If you become a patron to De Gillett, you'll immediately get access to as many as 72 patron-only posts.  You also have the opportunity to request a specific lesson to help you get through that painters block.